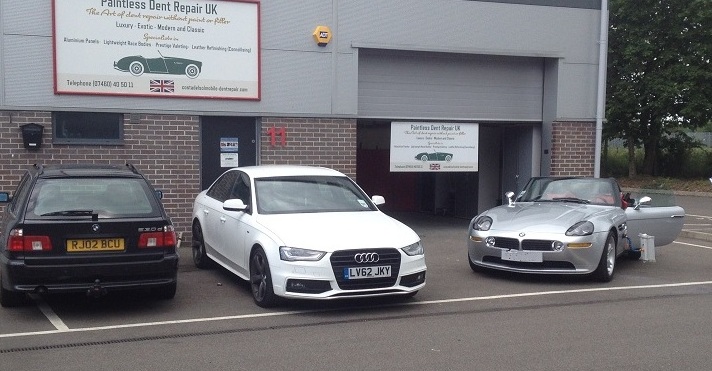 You can telephone, email or message us, or call and make an appointment to pop in and see us.

Visitors are welcome as follows:

09.30 a.m. till 5.30 p.m. Monday to Friday. Please note we are only open on Saturdays by appointment.

Maidstone Car Bodyshop
Unit 11 Integra
Bircholt Road
Park Wood Industrial Estate
Maidstone ME15 9GQ

telephone: (07460) 405011

email: mark@dentrepairmaidstone.co.uk

Facebook: www.facebook.com/KentsFinestSmartRepair

How to find us:
Turn off Sutton Road into Park Wood Industrial Estate onto Bircholt Road

Drive along Bircholt Road, then once you have gone past "Storage Mart" on your right take the next LEFT down the side of "Nationwide Drywall"

Drive past the Royal Mail collection depot on your left, then turn right at the end of the road where Maidstone Borough Council depot is.

We are in the second bay along with parking directly outside the front and side, Unit 11.
NOTE: Our premises are part of the "Integra" development on the estate and they are often overlooked and easily missed, so once you have driven past Storage Mart on your right slow right down ready to take the next left - if you go past The Ferrari Centre then you have gone too far !

Click on the link below to see us on Google Maps:
https://goo.gl/maps/waL8ZjePg2p